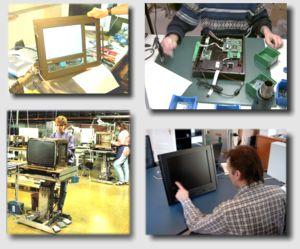 News
01.10.2020

New pictures: Eltromat VW4 connected with Lambda 19 LF

09.11.2018

Out now: Lambda 19 LF (VII+), Monitor for Varain VIIsion WITH DB9 or DB25 touch-output

19.04.2017 Developed 15" Monitor for EAGLE 10

26.04.2016

Working on a 23" (4:3) with ECDIS© protocol

08.12.2015

Replacement for EG-Prober CRT (Mitsubishi)

04.11.2015

Working on a replacementment monitor for the EATON NV10 machine.

05.05.2014

Working on a solution for AMAT Semitool.

13.12.2013

Well done! The solution is ready for the PI9500. More Information in the next days!

31.07.2013

Working on a solution for AMAT PI9500

04.03.2013

AMAT box could be used now by two different touchscreens and lightpens!

09.11.2012

Working on switchable AMAT Touch-Solution; one box with both touchscreens and alternatively with 2x mouse.

21.08.2012

ASM E2000 with Touch-female connector, different pining and protocol, sighted.
Solution out now!

16.02.2012

Industrial Terminal LCD Monitor for Jagenberg Querschneider (PC8800)

23.11.2011

Development of 17" Replacement for ASM 3200 ready!

28.10.2011

12" Replacement LCD Monitor for Bobst Martin Sytems

31.09.2011

AMAT Update! Sliding on the Touchscreen is now available! No need to lift up after each touch. All already bought Lambda AMAT touchsystems can be updated for free!

25.08.2011

AMAT Mouse Converter Box for two User (switchable) available.

15.05.2011

Pictures uploaded for the 19" AMAT (Endura, Centura, P5000) Replacement Monitor

29.04.2011

Working on a 19" AMAT Panelmount Replacement Monitor

08.01.2011

Uploaded our new 21" LCD Monitor, designed für ships.

05.11.2010

Working on a LCD replacement for a Plasma visualisation FPF 12000S (wood factory / round timber)

23.08.2010

Working on a replacement monitor for the Mattson AST 2800, RTP system.

07.08.2010

New english-leaflet in some weeks available.

30.06.2010

Pictures uploaded for the TDC 3000 Panel-Mount Solution.

28.05.2010

Working on a Honeywell Panel-Mount Monitor with Touchscreen. Pictures coming soon.

10.05.2010

Black Box developed for Yokogawa Centum V. Input: 20pin ribbon cable -> Output: HD15-Sub to connect a monitor. Pictures coming soon on the Yokogawa page.

28.03.2010

Coming up! Applied Materials Replacement Monitor for Panel-Mount application. Pictures and leaflet available on 01.04.2010 (pictures)

05.03.2010

Finishing the development of Lambda 15 LF (En) Replacement Monitor for Applied Materials (Endura and P5000) by using the old lightpen and switch.

03.02.2010

Development Lambda 15 LF (En) Replacement Monitor for Applied Materials Endura and P5000, finished. (Mouse Emulation) Working on a Touch-Solution.

23.11.2009

Varian VIIsion Replacement Monitor Development finished! (new pictures)

12.11.2009

Working on an Applied Materials Replacement Monitor solution. (Lightpen)

10.10.2009

Coming Up ! Lambda is working on a 24 inch Multi-Touch Monitor, working directly with your new Windows 7 ! More Information End of October !

since 01.01.2009

Old makes New! IFP 18 M XF (S)->Lambda 19 LF (FBL). Lambda develops Frame Buffer Less (FBL) Monitors in 19inch for security applications (e.g. for Rail Stations "Lupenmonitore")

03.11.2008

Lambda Electronic GmbH takes care of all your repairs, even if they are not our own products. This is especially true for products of the former company in the Emser Street 312, 56076 Koblenz, called IFP XX-M-XF. Warranty repairs from the former company are also welcome, we will reduce the repair costs. We hope you understand, that we can't stand for the warranty of the former company.
Now, it's your turn to call us !